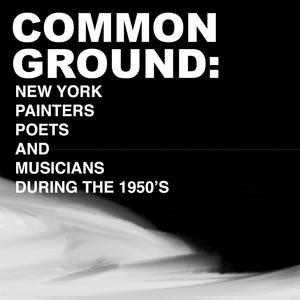 Common Ground: New York Painters, Poets, and Musicians During the 1950s
Helen Frankenthaler Foundation
December 5, 2019
Douglas Dreishpoon Director of the Helen Frankenthaler Catalogue Raisonné, in conversation with
Eric Charry, Professor of Music, Wesleyan University
Pepe Karmel, Associate Professor, Department of Art History, New York University
John Yau, poet, critic, and publisher

At the Helen Frankenthaler Foundation
Offices and Study Center
In bohemian postwar Manhattan, poets like Frank O'Hara, John Ashbery, Kenneth Koch, and James Schuyler, naturally gravitated to painters like Helen Frankenthaler, Joan Mitchell, Grace Hartigan, and Larry Rivers, whose work they appreciated on its own terms. Certain poets were lauded for their perceptive, unbiased eyes; some painters instinctively sensed a resonant poem. Paintings, like poems, thrive on subjective associations, levels of ambiguity sustained by intuitional flashes and spontaneous gestures.
Similarly, these creative peers often frequented downtown music clubs and benefitted from the exposure to yet another art form: jazz. The Five Spot Café, located at 5 Cooper Square in the Bowery, was one of many spots where poets and painters like Frankenthaler, Alfred Leslie, and Herman Cherry converged after hours to wind down and chat, while listening to improvising musicians, kindred spirits in the realm of creative risk taking.
Using a combination of visual slides and musical clips, this program addressed the common ground between painters, poets, and musicians who lived and worked in New York City, south of 14th Street, during the 1950s. Panelists explored what improvisation means to a painter, poet and musician, the similarities and differences among disciplines, and the dynamics of interdisciplinary cross-fertilization.
View Eric Charry's interactive map of Downtown NYC venues in the 1950s