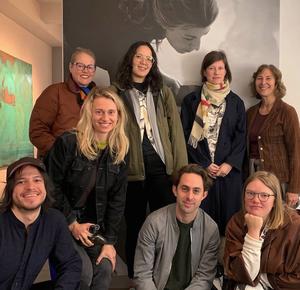 Helen Frankenthaler Foundation Awards $2.5 Million to Endow Doctoral Programs at Five Universities
January 28, 2020
Helen Frankenthaler Foundation announced today the selection of five new institutional partners for Frankenthaler Scholarships, a multi-year initiative that has dedicated more than $4 million to art and art history graduate programs around the country. For the program's next phase, the Foundation is awarding $500,000 to five different universities—The Graduate Center, CUNY; Harvard University; Institute of Fine Arts at New York University; Stanford University; and University of Chicago—to support the creation of named endowments that will offer one or more annual fellowships for doctoral students studying art history. These endowment gifts build on the inaugural round of Frankenthaler Scholarships, which support MFA programs in painting.

In addition to expanding its Frankenthaler Scholarships, the Foundation has continued to advance the contemporary practice of painting and the academic study of modern art history through philanthropic initiatives that stimulate new research on the art of Frankenthaler's lifetime and inspire the next generation of painters. Recent initiatives include the creation of a new eponymous award with the Foundation for Contemporary Arts, the donation of a major painting by Frankenthaler to Tate Modern, and a $1-million gift to the capital campaign of the Studio Museum in Harlem to name the research library and support scholarship in the Museum's new building.

"Helen was passionate about art education. Having benefited from her years at Bennington College, she maintained an active lecture schedule at universities and art schools across the U.S. We are very excited to be supporting these five outstanding doctoral programs in art history by endowing Frankenthaler Scholarships, as our gifts reflect Helen's deep passion for the history of art," stated Clifford Ross, Chair of the Helen Frankenthaler Foundation's Board of Trustees.

Image: Students from the second and third years of UCLA's MFA Painting program with Professor Silke Otto-Knapp and HFF Executive Director Elizabeth Smith.