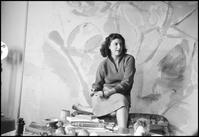 Helen Frankenthaler (1928-2011), whose career spanned six decades, has long been recognized as one of the great American artists of the twentieth century. Heir of first-generation Abstract Expressionism, she brought together in her work a conception of the canvas as both a formalized field and an arena for gestural drawing. She was eminent among the second generation of postwar American abstract painters and is widely credited for playing a pivotal role in the transition from Abstract Expressionism to Color Field painting. One of the foremost colorists of our time, she produced a body of work whose impact on contemporary art has been profound.
Frankenthaler, daughter of New York State Supreme Court Justice Alfred Frankenthaler and his wife, Martha (Lowenstein) Frankenthaler, was born on December 12, 1928, and raised in New York City. She attended the Dalton School, where she received her earliest art instruction from Rufino Tamayo. In 1949 she graduated from Bennington College, where she was a student of Paul Feeley, following which she studied briefly with Hans Hofmann.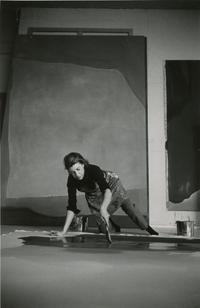 Frankenthaler's professional exhibition career began in 1950, when Adolph Gottlieb selected her painting Beach (1950) for inclusion in the exhibition titled Fifteen Unknowns: Selected by Artists of the Kootz Gallery. Her first solo exhibition was presented in 1951, at New York's Tibor de Nagy Gallery, and she was also included that year in the landmark exhibition 9th St. Exhibition of Paintings and Sculpture. Renowned art critic Clement Greenberg recognized her originality, and as early as 1959 she began to be a regular presence in major international exhibitions. She had her first museum retrospective in 1960, at The Jewish Museum, in New York City.
In 1952 Frankenthaler created Mountains and Sea, a seminal, breakthrough painting of American abstraction. Pioneering the "stain" painting technique, she poured thinned paint directly onto raw, unprimed canvas laid on the studio floor, working from all sides to create floating fields of translucent color. Mountains and Sea was immediately influential for the artists who formed the Color Field school of painting, notable among them Morris Louis and Kenneth Noland. Thereafter, Frankenthaler remained a defining force in the development of American painting.

Throughout her long career, Frankenthaler experimented tirelessly, and, in addition to unique paintings on canvas and paper, she worked in a wide range of media, including ceramics, sculpture, tapestry, and especially printmaking. Hers was a significant voice in the mid-century "print renaissance" among American abstract painters, and she is particularly renowned for her woodcuts. She continued working productively through the opening years of this century.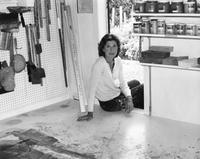 Frankenthaler's distinguished and prolific career has been the subject of numerous monographic museum exhibitions, including—in addition to the 1960 Jewish Museum show—major retrospectives at the Whitney Museum of American Art, and European tour, in 1969; The Solomon R. Guggenheim Museum, and tour, in 1985 (works on paper); the Modern Art Museum of Fort Worth, and tour, including The Museum of Modern Art, New York, in 1989; the National Gallery of Art, Washington, D.C., and tour, in 1993 (prints); the Naples Museum of Art, Florida, and tour, including the Yale University Art Gallery, in 2002 (woodcuts); and the Museum of Contemporary Art, North Miami, traveled to the Royal Scottish Academy, Edinburgh, in 2003 (works on paper).
Recent major exhibitions have included Painted on 21st Street: Helen Frankenthaler from 1950 to 1959, presented in 2013 by Gagosian Gallery, New York; Making Painting: Helen Frankenthaler and JMW Turner, presented by Turner Contemporary, Margate, UK, in the winter–spring of 2014, which featured works by Turner alongside twenty-four paintings by Frankenthaler; Helen Frankenthaler: Composing with Color: Paintings 1962–1963, Gagosian Gallery, New York, fall 2014; Giving Up One's Mark: Helen Frankenthaler in the 1960s and 1970s, organized by the Albright-Knox Art Gallery, Buffalo, New York, in cooperation with the Helen Frankenthaler Foundation (fall 2014–winter 2015); Pretty Raw: After and Around Helen Frankenthaler, which reconsidered the history of modern art and its renewed meaning for contemporary artists, presented by the Rose Art Museum at Brandeis University in the winter–spring of 2015; and Line into Color, Color into Line: Helen Frankenthaler, Paintings, 1962–1987, organized by Gagosian Gallery and presented at its Beverly Hills location in the fall of 2016.
Frankenthaler's work is regularly included in group exhibitions, and among current highlights are the Denver Art Museum's Women of Abstract Expressionism, through September 25, 2016, traveling to the Mint Museum, Charlotte, NC (October 22, 2016–January 22, 2017), and the Palm Springs Art Museum (February 18–May 28, 2017); and Abstract Expressionism, organized by the Royal Academy of Arts, London, September 24, 2016–January 2, 2017.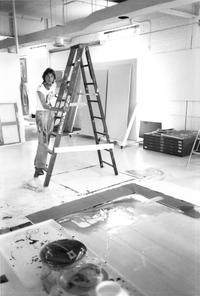 In addition to numerous scholarly articles on her work by renowned art historians, curators, and critics, Frankenthaler was the subject of three major monographs: Frankenthaler, by Barbara Rose (1972); Frankenthaler, by John Elderfield (1989); and Frankenthaler: A Catalogue Raisonné, Prints 1961–1994, by Suzanne Boorsch and Pegram Harrison (1996); and substantial exhibition catalogues by authors including Carl Belz, Julia Brown, E.A. Carmean, Jr., Bonnie Clearwater, Ruth Fine, Judith Goldman, Eugene C. Goossen, Frank O'Hara, and Karen Wilkin.
In 2015 Gagosian Gallery published "The heroine Paint": After Frankenthaler, edited by art historian and curator Katy Siegel, which explores Frankenthaler's painting and expands its focus to include the immediate social and artistic context of her work, then traces artistic currents as they move outward in different directions in the ensuing decades. Distributed by Rizzoli International Publications, the book collects six scholarly essays, six short texts from contemporary artists, and reprints of historical writing.
Frankenthaler was the recipient of numerous honorary doctorates, honors, and awards. In 1966, along with Ellsworth Kelly, Roy Lichtenstein, and Jules Olitski, she represented the U.S. at the 33rd Venice Biennale. She received the National Medal of Arts in 2001; served on the National Council on the Arts of the National Endowment for the Arts from 1985 to 1992; was a member of the American Academy of Arts and Letters (1974–2011), where she served as Vice-Chancellor in 1991; and was appointed an Honorary Academician of the Royal Academy of Arts, London, in 2011.
Important works by Frankenthaler may be found in major museums worldwide.
For additional information: info@frankenthalerfoundation.org

Winter 2015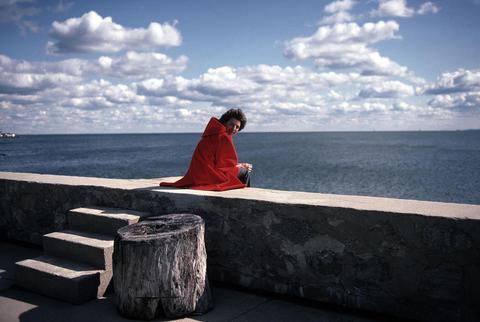 There are no rules. That is how art is born, how breakthroughs happen. Go against the rules or ignore the rules. That is what invention is about.